This article will help you to: 


Set up the right Excel file for the upload


Importe users via an Excel file


Update users or restore users


File export errors 
-------------------------------------------
Set up an Excel file


Before importing users to your Nosco installation, you need to prepare an Excel file
with the users and their information you'd like to import or update. You can import
users using any type of Excel file. (.XLS or .XLSX).


When importing an Excel file, make sure that all users are on one sheet.
When a file with multiple sheets is imported, only the data from the first sheet
is used.


The first row in your spreadsheet is assumed to contain column headers.
The first row in your sheet won't be imported, so please make sure there are headers
for all columns and that none of them are merged.


Make sure that first name, last name, email, and each user label is split
into a separate column.

You can use these attributes for each user:


First name (required)

Last name (required)

Email (required)

User labels

SSO IdP ID (if your installation has SSO enabled)

 


You can download an example file at the end of this article.


Pro Tip: Attach a user label to the list upload e.g. invite. This will help you to easily select and invite the people you have just imported later.
Start to import users
Now that you have prepared your Excel file, you are ready to import the users to Nosco.
We always analyse your file and show you a report of what exactly will happen when your
file is imported. If the analysis detects any problems, you can cancel and fix the errors.


Go to the People section in the admin level.




To create a new user, click on the plus icon in the upper right corner.




Click on Import from Excel.


 
Click in the upload field, or drag and drop your Excel file in the provided area.




You will now see a table, showing the first five rows of your Excel file.
Verify, that the content looks right and select the correct headers for each column.
(You need to map at least first name, last name, and email.)




After you have mapped the columns, click on Next in the bottom right corner. A report of what is about to happen, including any problems that have been detected, will open up.



If no problems have been detected, click on Import to start the user import.
Note:
Columns that are not mapped will be ignored.

If there are more columns than can fit in the browser window,
you can scroll to the right to see them.

Update or restore users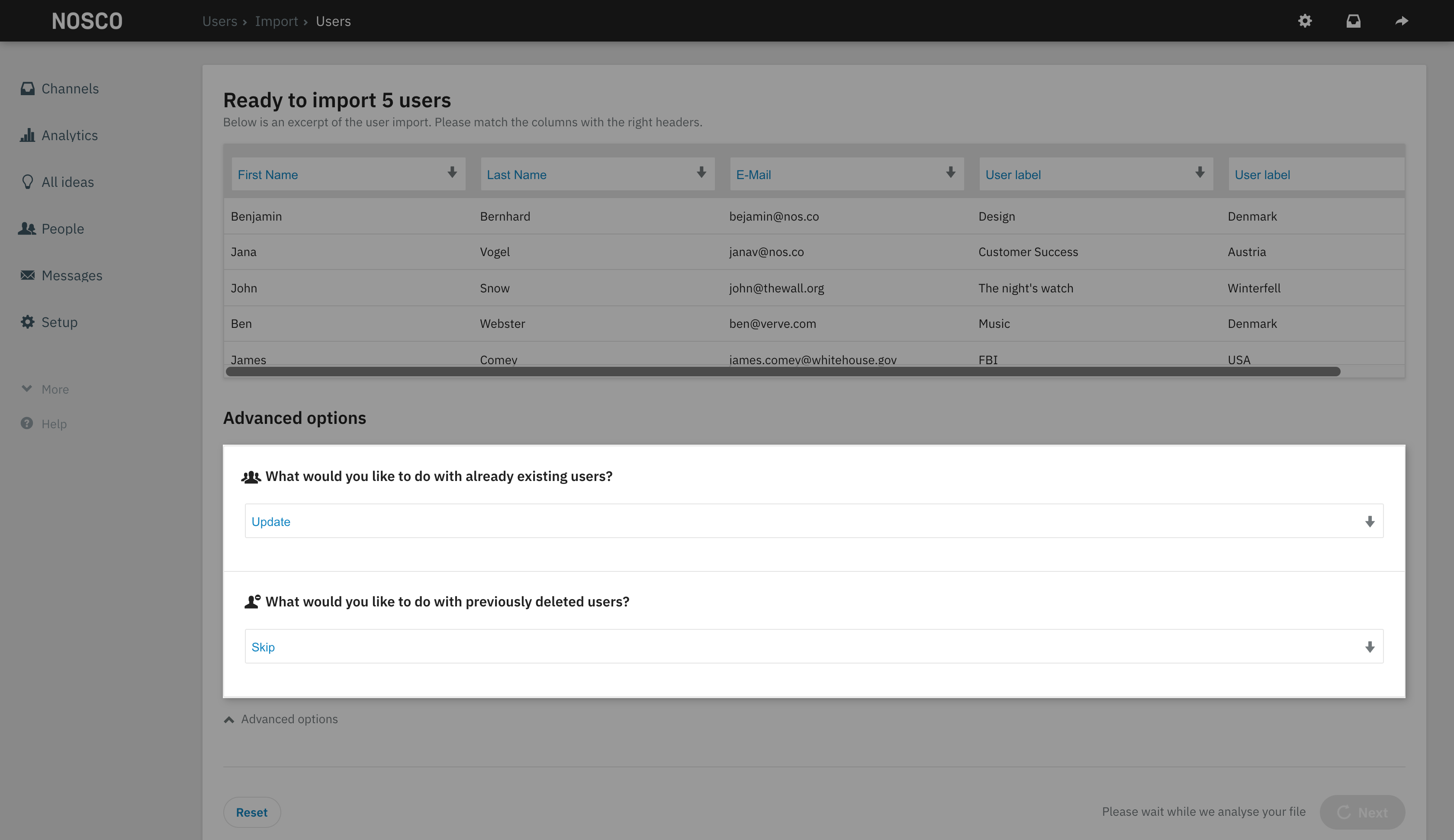 Tip: To edit the options for update/restore user, you have to expose the advanced options. You can find them in the bottom left corner underneath the table.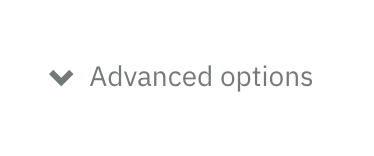 Update: What would you like to do with already existing users? 

If your sheet contains data of users that already have an account on your platform,
you can choose to either update their accounts or skip them.

By default, we update:
Existing users with the data in the Excel sheet.

New user labels are added, but existing labels that
are not in the import data will not be removed.

Names

 (If you choose Skip here, no existing users will
be updated, and only those users from the spreadsheet
that do not already exist on the site will be added) 


Restore: What would you like to do with potential previously deleted users? 
If your sheet contains data of users that have been deleted from your installation,
you can choose to either restore their accounts or skip them.
File import report errors
The following are import problems that you may encounter:
No identifier - When columns are missing an email, or for SSO-enabled sites
where emails are not required, when neither an email nor an IdP ID was offered.


Invalid emails - When columns contain incorrectly formatted email addresses.


Duplicates emails or SSO IdP IDs - When the file you are importing contains
the same email address or SSO IdP ID in more than one column.


No identifier - When columns are missing


Multiple targets - When a column contains both an email and an IdP ID,
but the installation already contains a different users for each of those.


Multiple sources - When two columns each contain an email and an IdP ID,
and they both match a single existing user on the installation.


Missing names - When the first and last name fields of a column are both empty.


Updated - The file you are importing contains updated information some users.


Unchanged - Refers to users already on your platform, and all the uploaded
information was identical.


Skipped - Means these users will not be imported
We hope this article has been useful for you.
If you need more help, feel free to reach us: